Donald Huddleston bio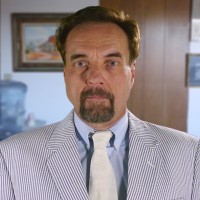 Donald Keller Huddleston was born on October 10, 1964, in Killeen, Texas to George and Katherine Huddleston. Don was the second of four children and the only boy. George was a military lawyer, and Katherine was a homemaker.
Don was an inquisitive child and a solid B student, who peers described as outgoing and friendly. He participated in school sports and was a decent, though not gifted, athlete.
In high school, Don joined the debate team, where he discovered his passion and his talent. He excelled in public forum debate and oratory and became a formidable competitor. That, combined with his father's influence, sparked a desire in Don to practice law.
George promised to help pay for law school if Don would earnestly apply himself to his academics. By the first semester of his junior year of high school, Don's GPA was up to 3.8, and by graduation, it was 4.0.
Don enrolled at the University of Texas–Austin Moody College of Communication. He joined the debate program, where his skills earned him scholarships for his remaining years of college. Don dated casually during this time, but his studies and competition schedule limited his ability to commit to a relationship.
While at a debate competition held in Oxford, Don toured the University of Mississippi and decided to go there for law school.
In 1986, he graduated magna cum laude from UT–Austin with a B.S. in Communication Studies. He moved to Oxford that summer to attend Ole Miss Law.
Don received his J.D. degree in May of 1989 and joined a small, established corporate and tax law practice in Oxford. The partners were consummate and professional but not of the stiffly starched shirt and gold cufflinks variety. After years of working to keep his grades up while traveling to competitions, Don happily settled into the more relaxed environment.
In the summer of 1992, Nicole Fontaine, a second-year student at Ole Miss Law, served a two-month internship at Don's firm. Nicole was driven and direct with an unforced confidence. She really couldn't care less about what people thought of her, and Don admired that. She was witty and brilliant.
On the last day of Nicole's internship, she asked Don out, and the two started dating. Don proposed immediately following her graduation from law school, and the couple married a year later on April 30, 1994.
Don wanted children, but Nicole was ambivalent because she didn't want anything to derail her career. Don agreed to be the primary caregiver should they become parents. Their son, Marc, was born in 2000, and their daughter, Ashley, in 2004. Don took paternity leave with the birth of each child so that Nicole could immediately return to work.
Don was content to live an above-average lifestyle with reasonable work hours, but Nicole was not. She spent upward of 80 hours per week at the office and continued to answer emails and take phone calls at home. She wanted a more opulent and exciting lifestyle than either Don or Oxford could offer.
The couple separated in 2011 and worked on an amicable settlement. When the divorce was final in 2012, Nicole moved to Scottsdale, AZ, where she felt there was increased opportunity to build her practice and live a more upscale lifestyle. Nicole and Don have joint custody, but Don is the custodial parent so Marc and Ashley can finish high school in Oxford.