Lyle Nelson bio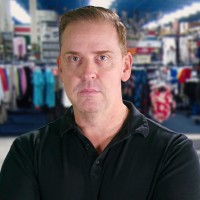 Lyle Nelson was born December 6, 1974, in Jackson, Mississippi to Gloria and Robert Nelson. He grew up there and was a good student as well as an average athlete. He found archery at a very young age and went on to be on the archery teams in high school and later on at the University of Mississippi.
After college, Lyle moved around a bit in Mississippi finding work as a substitute teacher. He eventually moved back to Oxford, and with a loan from his grandparents, he opened up his own sporting goods shop called the Happy Hunter. They sell a wide array of sporting goods ranging from kayaks, backpacks and fishing supplies, to guns as well as a stocked archery department. They've served the Oxford community for the last ten years and are the largest sporting goods store in town.
The Happy Hunter has many four and five star reviews online. Numerous customers have left favorable comments about Lyle and his business with one saying, "The owner Lyle is always helpful and is enthusiastic about sharing his knowledge, and I wouldn't go anywhere else to buy bowhunting gear."
Lyle is friendly and warm. He has many regular customers who will pop by his shop just to hang out and talk. Kids from the high school often stop by after school to chat with him. He has a youthful exuberance that makes him endearing to his customers.
Though Lyle is in his forties, he's never been married. He's been engaged twice, but both times, things did not work out. He often jokes to his customers that he's married to the Happy Hunter. Other than being behind his bow and arrow, there's no other place he'd rather be.