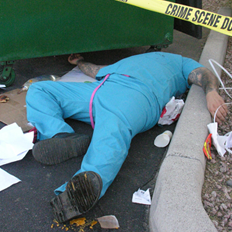 Jerry Shaw was an orderly at Yoknapatawpha Acres.  He was found murdered beside a dumpster behind the nursing home. He had  recently been accused of elderly abuse.
The evidence is organized into categories of Interviews, Evidence, Biographies, and Press. Links to each category are provided on the right side of each case page. Click on these links to move between categories and view the different pieces of evidence.
There are three ways to participate.
Do nothing and examine the available case evidence.
Register for free and gain the ability to post your response to new evidence and to interact with other web detectives
Become a paid member and see evidence before anyone else. Paid members also receive new information twice weekly.
There are no articles in this category. If subcategories display on this page, they may have articles.