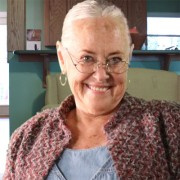 Agnes Jenson bio
Agnes Blakenship was born in Tacoma, Washington on January 22, 1953, to parents Henry and Myrtle. Henry was a project manager for a defense contractor, and Myrtle was a homemaker.
Henry adored Agnes and spent many happy hours telling her long, humorous stories. Agnes' parents had a wonderful relationship, and Agnes told friends she had never heard them quarrel even once. She dreamed that one day she would marry someone like her father.
When Agnes started school, she had a hard time adjusting to being away from home. Myrtle had to leave a crying Agnes at the classroom door each morning. It was a hard time for both of them, but Agnes finally adjusted and made friends.
During her sophomore year in high school, Agnes fell for a senior and decided that he was the one she would marry. She told everyone about him and how happy they would be; just as her parents were.
One day she caught the boy kissing another girl under the bleachers at a ball game. Agnes was heartbroken, and it changed her dreams of marrying a man like her father. She gave up dating for the rest of her high school years.
When Agnes was 22 years old, she, Henry and Myrtle went on a family vacation to the Bahamas. During that trip, she met Luther Jenson and — according to what Agnes told her friends later — the sun came out. She and Luther had a short courtship, married, and moved into a new home in Oxford, Mississippi.
On January 21, 1978, Agnes gave birth to a little girl they named Joy Elaine. Despite her name, Joy was never a happy child. She always caused problems and seemed to get some enjoyment out of doing so.
As a teenager, Joy became pregnant and wanted to abort the baby. Agnes and Luther offered to take the child and raise it, but she refused. After extended negotiations, Joy finally relented, and right after the baby was born, she left town, never to be heard from again.
Agnes never fully recovered from the loss of her daughter, but pushed the pain aside and threw herself into raising her grandson. She named the baby Blake, a shortened form of Blakenship, as an homage to her father.
As the boy grew up, he brought Agnes and Luther all the joy they'd wanted but never gotten from their daughter. Agnes didn't understand all of Blake's passions like video games and tattoos, but she never let that come between them. she supported him and all his interests as long as they weren't dangerous.
Since Luther retired, he and Agnes have split their time between Yoknaptawpha County and a second home in Texas. Whenever they were away, they relied on Blake to look after their property in Oxford, and if he ever let them down, they didn't tell a soul.
---