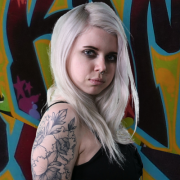 Kade Johnson bio
Kade Marie Johnson was born on February 14, 1996, to Mike and Vivian Johnson. Mike, an Oxford firefighter, and Vivian, a dental hygienist at the Oxford Dental Center, wanted the best for their daughter.
When Vivian returned to work after Kade's birth, she and Mike wanted to make sure her daughter was well cared for, so the proud parents hired a nanny to watch after Kade even though it put a much bigger dent in their household budget than sending her to daycare would have. Mike and Vivian worked hard to make ends meet, and when they weren't working, they spent as much time as they could with their beloved daughter.
When Kade was five, her parents announced she was going to have a new brother or sister. To everyone's delight, Vivian gave birth to twins Kevin and Karla. With three kids to raise now, Mike and Vivian decided that Vivian would stay home and look after their children instead of returning to work.
Kade loved being a big sister and having her mom home all the time. When she came home from school, she always put on a little show for her mother and siblings to share what she had learned that day. Those small performances were where her interest in music began.
Soon, she lost interest in her dolls and puzzles and coloring books, and only wanted to play with her musical toys. When she was eight, she asked her parents for a guitar for Christmas. They got her an inexpensive starter guitar from the secondhand store, assuming she would soon tire of it, but Kade sat for hours and strummed that little guitar.
For her tenth birthday, her parents rewarded her devotion by giving her formal lessons. She proved to be a natural, and soon she was babysitting and working odd jobs so she could pay for more lessons and better instruments.
In high school, she got a job a small alarm and communications business, which not only funded her musical pursuits but also taught her about installing sound systems and security systems. She was surprised that she found the work so interesting.
Kade thrived during her school years. She was an excellent student and popular with students and teachers. Her love for music never faded, but she decided she wanted to do more with her life, so when she graduated from high school, she went on to the School of Engineering at The University of Mississippi.
At Ole Miss, she met bandleader Blake Jenson, and they became friends. When Blake heard her play and discovered she was a talented rhythm guitarist, he asks her to join his band, Random Deeds.
---