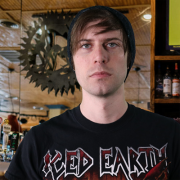 Kent Erdell bio
Kent Erdell was born to Charles and Shannon Erdell on December 20, 1996. Charles was self-employed as a plumber, and Shannon was the owner of Bundles of Joy daycare center, where she looked after children who ranged in age from six months to six years.
Kent was the Erdells only child, and he was with Shannon at the daycare every day. Shannon started caring for Blake Jenson when he was eight months old. Since he and Kent were so close in age, she put them in the same crib. It seemed that from that moment on the two boys were always together.
Kent was athletic and excelled at both baseball and basketball. When he was 11 years old, he started taking drum lessons. Soon he stopped playing basketball and devoted his time to baseball and drums.
Kent was awkward and shy when it came to girls, and his attempts at flirting were comical. At the age of sixteen, he got a job working after school at Subway so he could afford to pay for dates, just in case he ever got up the nerve to ask a girl out.
During their junior year of high school, Kent's buddy Blake decided that they needed to start their own band. They put up fliers at the school announcing that they would have open practices at Blake's grandparents' garage every Wednesday. It was an invitation for other aspiring musicians to come practice with them.
After a couple of weeks, several girls started coming to watch the practices, and Kent discovered that while he was playing the drums, his shyness vanished. Blake always got the prettiest girls, but there was never a shortage.
After graduation, Kent enrolled in the School of Engineering at the University of Mississippi.
In addition to attending classes, he also works for his father in the plumbing business. Currently, Kent lives alone in a one-bedroom apartment in Oxford. When not working or at school, Kent can be found hanging out either at Blake's guesthouse or at a local bar with live music.
Kent's friends describe him as having a laidback personality, fading into the background except when he is playing the drums.
On December 2, 2018, Kent called 911 to report that Blake was not breathing and that Kent feared he was dead.
---