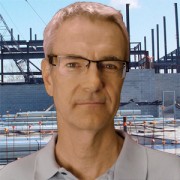 Greg Patterson bio
Greg Patterson was born August 15, 1968, to Jack and Margaret Patterson in Tupelo, Mississippi.
Greg thrived as a child, and by the time he entered high school, he was a striking young man. He was a superb athlete and loved all sports. Greg's goal was to do well at anything he attempted.
He was an excellent student and went on to the College of Engineering at the University of Tennessee. He chose civil and environmental engineering as his major and planned to run his own engineering company within 15 years of getting his degree.
Shortly after graduation, he met and married Joan Flowers. They decided to settle in Tupelo. The first few years were challenging for the newlyweds, but Greg never gave up on his dream. They had two boys within two years of each other. Joan stayed home and took care of the kids while Greg worked as an engineer at the company he would someday own.
Greg first met Oscar Knight in 1990 when Oscar applied for a position at Greg's company, and they worked together as colleagues for several years. According to co-workers, Oscar respected Greg's talent and business acumen, and he never disrespected Greg's authority in front of others despite their age difference.
When Greg was handed the opportunity to buy out the company, he jumped at the chance and renamed it Patterson Engineering and Development, Inc. Although Oscar was never easy to work with, Greg kept him on staff because of his experience and exceptional talent. Others at the firm say that even though Oscar didn't always get along well with the other employees, he usually supported Greg's business decisions.
---
$ 44- 54 explores a different crime scene processing technique each month. Shop Now

$ 30.00 – $ 33.00 Jackets feature a detective shield printed in white on the front and FORENSICS in large white type on the back. Shop Now

$ 25.00 $ 22.00 Create a professional crime scene sketch quickly. Shop Now

$ 8.00 $ 7.00 This sturdy, bright yellow lanyard printed on both sides with "CRIME SCENE DO NOT CROSS" in black letters. Shop Now

$ 8.00 Contains 2 of each size paper and plastic bags (large, medium and small.) Use for real evidence or fun. Shop Now

$ 44.00 A real print kit, fully stocked with instructions and enough supplies for at least 50 different print lifts. Shop Now

$ 25.00 $ 16.00 A wall chart illustrating common fingerprint comparison characteristics. Shipped in a protective cardboard tube. Shop Now

$ 4.50 – $ 150.00 The standard FBI fingerprint card, form No. FD-258 version: 11-1-20 used for noncriminal fingerprinting Shop Now

$ 75.00 $ 60.00 Examine the evidence to solve a murder. Dust evidence for prints & test fabric for the presence of blood. Shop Now