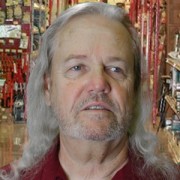 Albert Plum bio
Albert Plum was born in Oxford on November 10, 1955. Since Jeremy Plum was still serving overseas until June of 1955, Jeremy left his wife when the baby proved to not be premature. Albert was thus raised by his mother, Natalie, with the occasional help of his "Uncle Bob."
At school, Albert was mercilessly teased as "the bastard son of a bastard son." His teachers, who were unable to stamp out the behavior of his classmates, reported that he grew more introverted as the years went by until he was as stoic as his fireplug build suggested.
Albert was the sort who buckled down and got things done, applying the same frowning effort to recess as he did to his studies. By the time he reached high school, that dogged determination had put him in the top ten percent of his class, and people were surprised when he didn't go on to college.
Instead, he asked the owner of the hardware store where he'd been working part-time to take him on full-time and put him on a management track. The owner agreed, and Albert went to work for him 40 hours a week right after graduation.
By the time Albert was 25, he was the store manager, and he asked his boss whether it would be possible to come in as a partner. When his boss agreed to the deal, Albert pressed his Uncle Bob for the money to buy into the hardware store.
When Albert's business partner died from cancer seven years later, Albert became the sole owner. He took on the additional responsibilities to keep the business running, despite increasing pressure from national chains and discount department stores.
Albert has never married or even dated anyone seriously, as far as his friends know, and his relationship with his mother remains strained.
Witness reports put Albert at the Marshall family reunion on August 20th and at Lamar Park on August 25th.
---
$ 25.00 $ 16.00 A wall chart illustrating common fingerprint comparison characteristics. Shipped in a protective cardboard tube. Shop Now

$ 8.00 Contains 2 of each size paper and plastic bags (large, medium and small.) Use for real evidence or fun. Shop Now

$ 4.50 – $ 150.00 The standard FBI fingerprint card, form No. FD-258 version: 11-1-20 used for noncriminal fingerprinting Shop Now

$ 75.00 $ 60.00 Examine the evidence to solve a murder. Dust evidence for prints & test fabric for the presence of blood. Shop Now

$ 44.00 A real print kit, fully stocked with instructions and enough supplies for at least 50 different print lifts. Shop Now

$ 25.00 $ 22.00 Create a professional crime scene sketch quickly. Shop Now

$ 30.00 – $ 33.00 Jackets feature a detective shield printed in white on the front and FORENSICS in large white type on the back. Shop Now

$ 17.50 The applicant card kit contains everything you need to collect five sets of fingerprints. Shop Now

$ 44- 54 explores a different crime scene processing technique each month. Shop Now

$ 25 Stocked with enough supplies to collect at least 25 prints. Shop Now

$ 8.00 $ 7.00 This sturdy, bright yellow lanyard printed on both sides with "CRIME SCENE DO NOT CROSS" in black letters. Shop Now