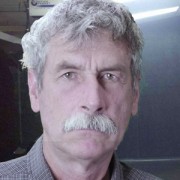 Oscar Knight bio
Oscar Knight is the only son of Russell and Maxine Knight. He was born in Oxford, Mississippi, on October 18, 1959. The Knights had one other child, a daughter, Carolyn, born four years after Oscar.
Russell ruled his house and family with an iron fist. He used a razor strop to whip the kids into shape if he thought they were being sassy or trying to get away with doing anything he didn't want them to.
As a child, Oscar preferred to keep his own company most of the time and took any opportunity to get away from his family, even to go to school. He didn't like the teachers' authority over him, but even the meanest of them was easier on him than his father.
Oscar took out his frustrations on his classmates and got into scrapes with other students almost daily. After some of his teachers and the principal paddled him on several occasions as punishment, he learned to do his fighting after school. By the time he was a teenager, his peers knew him as a bully, and most gave him a wide berth.
His teachers report that Oscar had an aptitude for mathematics but was poorly socialized, which made him a difficult student. He had little patience for class discussions or group projects and was often disrespectful of teachers and classmates, especially the female ones.
Oscar lived at home with his parents until he graduated from high school, when his father informed him it was time for him to pay his own way. In December 1978, Oscar enlisted in the Army, where he served for 12 years and earned a degree in civil engineering.
After leaving the Army, he never returned to the family home in Oxford and instead found a small apartment in Tupelo. There, he was hired by Patterson Engineering & Development, Inc. Four years later, he bought a home of his own on Bella Vista Street in Tupelo.
Oscar's mother, Maxine, passed away in 2018. His father, Russell, now lives with his daughter, Carolyn, in Tupelo. Friends say Carolyn has not forgiven her father for his treatment of his family in the past but feels a responsibility to care for him.
Oscar is reportedly estranged from both his father and sister. Those who know Oscar say he has few close friends. He lives alone, has never married, and has no known children. He still works for Patterson Engineering.
According to the Tupelo Police Department, officers responded to an altercation at the Sweetgum Lounge on September 17, 2020. Oscar was taken into custody at the scene and booked, but the charges were later dropped.
Rebel Inn motel records show Oscar checked into room 120 on August 19, 2022, at 5:30 p.m. He was last seen at The Roadhouse Bar & Grill on the evening of August 20. Guests on either side of his room at the Rebel Inn report hearing him yell and bang on the walls between 10:00 and 11:00 p.m. that same night.
---
$ 25.00 $ 22.00 Create a professional crime scene sketch quickly. Shop Now

$ 75.00 $ 60.00 Examine the evidence to solve a murder. Dust evidence for prints & test fabric for the presence of blood. Shop Now

$ 8.00 Contains 2 of each size paper and plastic bags (large, medium and small.) Use for real evidence or fun. Shop Now

$ 25 Stocked with enough supplies to collect at least 25 prints. Shop Now

$ 25.00 $ 16.00 A wall chart illustrating common fingerprint comparison characteristics. Shipped in a protective cardboard tube. Shop Now

$ 8.00 $ 7.00 This sturdy, bright yellow lanyard printed on both sides with "CRIME SCENE DO NOT CROSS" in black letters. Shop Now

$ 17.50 The applicant card kit contains everything you need to collect five sets of fingerprints. Shop Now

$ 44.00 A real print kit, fully stocked with instructions and enough supplies for at least 50 different print lifts. Shop Now

$ 4.50 – $ 150.00 The standard FBI fingerprint card, form No. FD-258 version: 11-1-20 used for noncriminal fingerprinting Shop Now

$ 30.00 – $ 33.00 Jackets feature a detective shield printed in white on the front and FORENSICS in large white type on the back. Shop Now

$ 44- 54 explores a different crime scene processing technique each month. Shop Now