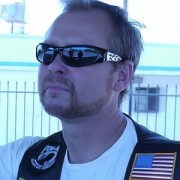 Davis Myers bio
Davis Myers was born on October 22, 1979, in Island, Kentucky. His father, Will, owned a small farm passed down from his grandfather. His mother, Fayetta, worked in the only restaurant in town. Davis would go to the restaurant where his mom would give him a big slice of cherry pie, and he would listen to the country music that was always playing on the jukebox.
When Davis was old enough to go to school, he learned that the world was much bigger than he had imagined. Island was just a tiny dot on the map, which he found fascinating. He loved geography but not much else. When he turned 16, he dropped out of school and got a job at a local auto repair shop. He saved as much of each paycheck as possible for the day he could leave Island and travel the country.
On Davis' 18th birthday, his parents surprised him with a used motorcycle, and it was love at first sight for Davis. From that day on, he dreamed of someday owning a new motorcycle he could use to travel to some of those faraway places he'd learned about in school.
He became very good at working on his motorcycle. He had taken it apart and put it back together so many times, he could almost do it with his eyes closed. His father told him that he was good enough to get a job anywhere working on them.
Davis took those words to heart and moved to Owensboro, Kentucky, where he found a mechanic's job that paid better than his old job in Island. He continued to build his travel nest egg and kept his eye out for bigger and better opportunities.
He built up a reputation as a motorcycle mechanic in Owensboro, and within a few years, he was recruited by a Harley-Davidson dealer in Evansville, Indiana. He moved there and thrived.
Davis started off as a mechanic but later began splitting his time between Parts & Service and Sales. His in-depth knowledge of all kinds of motorcycles made him a top salesman, and his commissions did wonders for his travel nest egg.
Over the years, Davis has ridden his motorcycle all over the US and Canada. In August 2022, Davis and his brand new Harley-Davidson set out on a road trip south to Memphis, Tennessee; Tupelo, Mississippi and New Orleans, Louisiana. He wanted to see the Graceland where Elvis lived, the town where Elvis Presley was born and raised, and eventually, the Gulf Coast and the city featured in Presley's film, King Creole.
Once he got to Oxford, Davis decided to stay in town for a while and look around, so he checked into the Rebel Inn.
---