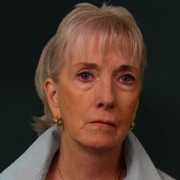 Brenda Ledbetter bio
Brenda Elizabeth Ledbetter was the only child born to Roger and Elizabeth Baker on September 3, 1970, in Oxford.
Roger and Elizabeth were ecstatic when they found out they had conceived because Elizabeth's obstetrician had told them that she probably wouldn't be able to have children. When Brenda was born, Elizabeth felt she had to protect her daughter from the world and everything bad in it.
Roger worked as a carpenter, building homes and installing wood floors, while Elizabeth stayed at home, caring for Brenda. Elizabeth was a very proper, old-fashioned woman and raised Brenda to be the same way.
When Brenda started school, she was a favorite of the teachers because she was attentive and did her schoolwork accurately and promptly. Other students called her names like "mama's girl" and "teacher's pet" all through school.
In her teen years, Brenda continued to be a good student, and her favorite subject was history. At home, her mother began assigning Brenda more chores so she would be well-prepared to be a good wife someday.
Once Brenda finished high school, she decided to go to college, much to her mother's chagrin. Because of her academic excellence, she was offered a full scholarship to the University of Mississippi, where she studied history.
When Brenda began college, she didn't want to be known as the geeky girl anymore. She changed her appearance, wearing more makeup and figure-flattering clothes, and dyeing her hair regularly. The changes helped Brenda make a couple of friends, including her roommate at the dorm. She also turned a few heads, but she still wasn't very interested in men.
During college, Brenda worked at a local supermarket to build up a nest egg. She wanted to leave Oxford after getting her degree and try for a career at The Met in New York or maybe even the Louvre in Paris. However, when Brenda graduated in 1992, her plans changed.
Barely out of college, Brenda met Kevin Ledbetter when he came into the supermarket one day while she was working. She thought he was the most handsome man she had ever seen, and Kevin was instantly smitten with her too.
They dated for several months and then married in the spring of 1993. Brenda took a job at the University of Mississippi museum soon after the wedding. She expected she and Kevin would be starting their family soon, but it was years before she became pregnant. Brenda gave birth to her and Kevin's only daughter in the spring of 2000.
At that time, Brenda reverted to what her mother had always taught her. She quit her job at the museum to stay home and care for her daughter, Jasmine and devoted herself to loving and protecting her precious child.
Brenda's laser focus on Jasmine eventually put a strain on her marriage, and Kevin complained that she was ignoring him. She told him she was just being a good mother, and he shouldn't be so selfish. They were at an impasse, and Kevin filed for divorce. Brenda was hurt and angry, and to cope, she turned all of her attention to Jasmine.
---