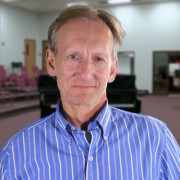 Nathaniel Huggins bio
On November 3, 1970, Nathaniel Huggins was born in Charlotte, North Carolina, to David and Martha Huggins. His father worked as an accountant, and his mom owned an arts and crafts supply store in town. He showed a talent for music and theater at a young age, and he appeared in his first school musical when he was seven years old.
He stayed in Charlotte through college, where he majored in theater and minored in religious studies at the University of North Carolina. He met his wife Laura while in the theater program there, and after they were married, they moved to Oxford, where she had been offered a job to head the theater program at the local community college.
Nathaniel took a job as music director at the Faith and Glory Community Church, where he coordinated the church's music ministry. He and his wife were members of the chancel choir, and when the longtime choir director retired, Nathaniel took on those responsibilities as well.
Nathaniel is known as an enthusiastic and upbeat choir director. He is always trying to find ways to make church services more exciting by experimenting with the music and introducing styles that aren't typical of a church choir.
He is no stranger to controversy over his selections, with some less open-minded members of the church having lodged complaints about his musical tastes with the senior pastor, the worship committee, and the personnel committee. Coworkers remark that he sometimes takes these criticisms personally and expresses frustration that not everyone is as forward-thinking as he is.
Nathaniel is known for his kindness and generosity. He volunteers with the church, helping feed the hungry, and with the Humane Society every month at dog adoption events.
---