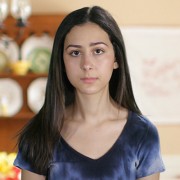 Lizzie Miller bio
Elizabeth Miller was born February 21, 2003, to Caroline and Frederick Miller in Oxford, Mississippi. She was always a bouncy, bubbly child who was curious about the world around her. Frederick and Caroline were both very proud of the bright daughter they were raising.
At school, she's the popular girl who is friends with everybody. She doesn't run with any particular clique. She'll sit with anybody at lunch and can make even the shyest of kids come out of their shells.
In the last couple of months, teachers at her school have noticed a marked change in her behavior. Lizzie never used to act up in class or be disruptive in any way. However, in recent weeks, a number of her teachers have given her verbal warnings about her behavior, though she has yet to be formally written up.
Lizzie is confident and headstrong, and she has always worked hard to attain her goals. She is ranked #2 on the archery team and is the first chair violin in the school band.
Whether it's athletics, academics, or playing the violin, Lizzie approaches all of her pursuits with the same dedication and discipline.
---