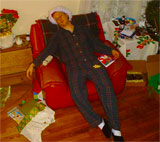 It was a Wonderful Life Caption Contest winners
The voters selected the caption "Death: the gift you can't return" as their favorite. Christina submitted that entry, and she wins a $15 Crime Scene coupon.
The caption contest runner-up, Claudia, wins a $10 Crime Scene coupon* for her caption "The Christmas cheer came to a halt, when he couldn't stay away from the malt."
It was a Wonderful Life Whodunit Theory Contest winners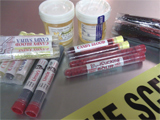 The viewers chose "CSI" as the best theory, and it was submitted by kirsty. For coming up with the top theory, kirsty wins the Crime Scene Candy Pack, which includes candy blood, urine and saliva samples, plus candy blood clots.
The Whodunit Theory Contest runner-up, Moose, wins a $10 Crime Scene coupon* for the theory, "Poison."
Congratulations to all the winners! Information on how to collect your prizes will be sent to the email address you submitted with your entry.
* Crime Scene coupons can be used on Crime Scene store purchases or on Crime Scene memberships.