Bill Dykman bio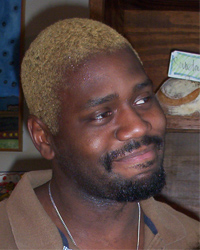 William Dykman was born to Jefferson and Lois Dykman in Corinth, Mississippi on August 19, 1977. Jefferson Dykman worked as a farmhand, and Lois raised the family and took in work washing or altering clothes when needed.
The Dykman household was never overflowing with money. They lived in a small house and regularly had displaced relatives sleeping on the couch and on pallets on the floor.
Although the family struggled financially, there was plenty of happiness in the Dykman home. Jefferson played trumpet with area blues and jazz bands on the weekend, and Lois sang in the church choir and played the organ. So there was often lots of music and affection in the Dykman household.
In school, Bill Dykman was known for his outgoing nature and his solid schoolwork. He was far from being the valedictorian, but he did well enough in school to earn praise from his teachers, and his gregarious nature always ensured he placed in school elections and popularity contests.
Bill was a big child and was asked to play on the football team at an early age. He played both center on offense and nose-tackle on defense, clogging the middle and casting quite a shadow down the middle of the field.
Bill also played the trumpet in the school band so during half-time, he would listen to the opening remarks from the coach and then hustle out to march while still in his football uniform.
In the summers, Bill worked at an ironworking company to earn extra money for the family. He enjoyed the sweat and the labor, and he often thought that closing the welder's shield over his face reminded him of putting on his football helmet.
At his ironworking job, he often built fences for the big mansions in town, and he began to enjoy the more artistic elements involved. Working with iron was tough and hard and hot. But as his skills advanced, Bill could see how working with iron could also be artistic and delicate.
Bill earned several varsity letters as a football player, but he was not good enough to warrant attention from college teams. So upon graduating, Bill gave up his athletic career and began focusing on his ironwork as well as advancing his art.
He attended Northwest Community College and focused on industrial arts. He continued playing trumpet in the band and began to experiment with iron work as an art.
During his time at Northwest, he met Robyn Campbell. Robyn enjoyed dancing, particular jazz dancing, and they quickly fell into a pattern of Bill playing his horn while Robyn fluttered around the empty football field.
Nearing their graduation, Bill and Robyn decided to get married. Bill was confident in their ability to withstand the pressures of an interracial marriage.
Although neither of their families were wealthy, they were certainly intelligent and open people who valued education and hard work. So both Bill and Robyn seemed prepared to handle the difficulties.
After their marriage, Bill and Robyn settled into their comfortable lives. Bill worked with an ironworks company and ran his own side business selling wrought iron accents and scrollwork for fine houses. He liked the balance of the two jobs.
The company primarily built commercial properties so during the day, Bill made things strong. His own side business sold artistic creations to people very concerned with the attractiveness of their home so at night, Bill made things pretty.
And he continued to play the trumpet, often playing jazz at Rooster's Blues House during football weekends.
The major darkness in his life was the relationship with his sister-in-law, Cindy. Bill really liked the warm-hearted woman, but he worried about her and her abusive relationship with her husband, Andy Fine.
Bill was very worried for her safety, and he had nightmares of having to tell his wife that something terrible happened to her sister.
He also worried about Robyn's well-being and was often afraid that Andy's anger would turn on Robyn some evening.