Chas Laughlin bio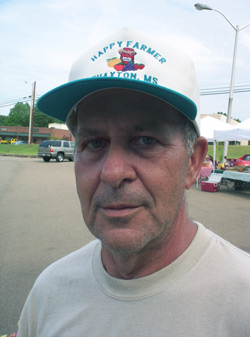 Charles "Chas" Edward Laughlin was born May 22, 1965, in Hattiesburg, Mississippi. He is the second youngest of Rufus and Elsie Laughlin's eight children.
Elsie ran an unlicensed childcare center out of the family's battered double-wide trailer on the outskirts of Hattiesburg's low-end blue-collar section.
Rufus drove a Hattiesburg city bus for 40 years, and though three times promoted to a supervisory position, each time he was "sent back to the line" within a year for one failure or another, the last being an unproven suspicion of skimming bus fares.
At the end of every workday, Chas saw his father come home and first drown his resentment with cheap bourbon, then vent it by abusing his wife or children — whoever was closest.
From a young age, Chas demonstrated an interest in cars, an interest in breaking out of poverty, and a willingness to cut corners to get ahead.
As a young boy, he would hang out at the service station/garage a half-block from the Laughlins' home, often ditching school early to spend time there. He would watch the cars come and go and would covet the occasional shiny coupe or expensive sports car that pulled in.
Watching the mechanics introduced him to auto maintenance, and according to his juvenile record, the activities at the station introduced him to petty fraud. He allegedly saw low grade gasoline substituted for premium grade and sold at premium prices, customers charged for repairs that were never made, parts damaged so they would fail later, and money skimmed from the till.
These lessons continued as Chas grew old enough to work part-time at the station. He developed a knack for repairing cars and taking advantage of the unwary. By eighth grade — the year he dropped out of school — he was small-town street smart and well-versed in how to make a fast and dishonest buck. The only thing holding him back was an explosive temper inherited from his father.
At the gas station, there was always a mechanic willing to buy booze for him for a $10 "tip," and Chas soon developed an alcohol problem. Drink was a factor in Chas's run-ins with the law as a teen.
At 15, he was hauled into juvenile court for joyriding; at 17 for assaulting a customer who caught him falsifying car repairs; and on his 18th birthday, he was arrested for beating one of the garage's employees who threatened to tell the owner that Chas was dipping into the till.
Chas spent 18 months in minimum security at the Mississippi State Penitentiary in Parchman, MS. He enrolled in the automobile maintenance and repair program at the prison, where he made contact with other like-minded inmates received an advanced education in chop shops, "cooking the books," and many other skills.
He also learned how to deal with squealers. When an inmate threatened to expose a scheme of smuggling booze into the facility, Chas allegedly helped six other inmates beat the man unconscious and pack his body into a trash compactor, though Chas was never charged in the incident.
Chas got out of Parchman in 1984 with a GED, several mechanic's certificates, and a full list of contacts. For the next ten years, he worked at repair shops and garages across Mississippi, Louisiana, and Texas, always leaving just before his scams were discovered, staying one step ahead of the law and keeping his criminal contacts active.
In Tyler, Texas, he met Jo Anna Deckard, a 24-year-old barmaid with three children by three previous boyfriends. They married in 1987, two months after their child was born.
While Chas was working at the TruService Auto Repair Shop in Oxford in 1994, Jo Anna demanded that they settle down.
Two years later, when the aging owner of the shop became ill, Chas raided his savings to buy it. He used his bookkeeping skills to convince the ailing owner the shop was worth much less than it was, and so picked it up at a fraction of its true value. Chas changed the name to Laughlin Automotive & Body Shop and put all he had learned to work.
According to confidential informants, Chas has always kept two sets of books, concealing the profits from using stolen repair parts from chop shops across the South.
He has also taken a heavy hand to those who tried to cheat him. Two of his mechanics were hospitalized after reportedly "falling off the lift," but insiders claim that Chas caught them stealing and beat them to a pulp.
In 2013, sources say Chas found a new and much less expensive supplier of illegally obtained parts in Memphis and routinely sends his most trusted employees to pick up parts from this supplier.