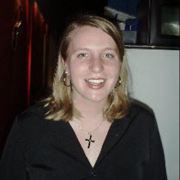 Emily Peyton bio
Emily Elias Peyton was born on December 18, 1991, in Atlanta, Georgia. Her parents, Linda and Thom Peyton, ran a successful mom-and-pop real estate agency. The demands of the business kept them away from home most weekends and many weeknights, which took a toll on Emily.
Left in the care of babysitters and nannies practically from the day she was born, Emily seemed starved for attention according to her elementary school teachers. She studied endlessly to gain her teachers' acceptance and accolades. In high school, she took as many AP and honors courses as possible and graduated at the top of her class with a better than 4.5-grade average.
Emily attended Berry College near Rome, Georgia, and then was hired at the University of Mississippi School of Business at the same time as Kristi Waterson. Emily often complained that she slaved in a tiny cubbyhole of an office while Kristi lounged in her new corner office with the plush carpeting and all the perks.
Emily's students describe her as a tough prof. "She really makes us work for a grade, but she's fair and a good teacher," said one. "If you get an A from Ms. Percy, it means you really learned something, unlike some other teachers."
Unfortunately, Emily was not a good money manager. She'd always had a passion for shopping. In Emily's college years, her mother monitored her credit cards and gave her a shopping allowance. After graduation, when Emily was earning her own money and had no one to oversee her spending, she splurged on shoes and high-end makeup. Every time she went to the Square in Oxford, she visited Neilson's shoe department and stopped by the makeup counter to see what new lipstick lines or colors had come in. She always left with at least one bag of newly acquired treasures.
Between the shopping and eating out several times a week, Emily's credit cards were perpetually maxed out. She'd pay off just enough so she could continue spending until she maxed them again. She was forever complaining about being broke, never failing to mention her colleague Kristi Waterson who always had plenty of money even though she spent more than Emily and the two of them earned the same salary.
In addition to her money woes, Emily has always been self-conscious about her weight. Since she was a teen, she's never understood how other women could eat whatever they wanted and stay so slim, like Kristi Waterson, while Emily continually struggled with an extra ten (or twenty) pounds. Every few months, Emily commits to a new workout program — and of course, buys a new pair of expensive athletic shoes for motivation — and celebrates her new exercise regimen with a nice dinner, but when the extra pounds don't melt away within a few weeks, her commitment falters and eventually fades away. Her resentment of the women who "effortlessly stay thin" never ebbs, however.
The night of Kristi's death, Emily had a date with John Brewer.
---