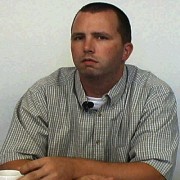 Weldon Foyle bio
Weldon Foyle was born on May 5, 1991, to Lyle and Helen Foyle in Fleming County, Kentucky. Lyle earned most of his income from farming and from picking and putting up tobacco. Helen was often bedridden for days suffering from terrible headaches, but she helped out whenever she could providing childcare and cooking services for neighbors.
Young Weldon pitched in from an early age. At ten, he was working in the fields, and by fourteen, he was climbing the highest rails of the tobacco barns and hanging the leaves to dry. He loaded hay at a rate of grown men and was known to muck fifteen stalls in a couple of hours.
At school, Weldon showed similar determination. Teachers report that he showed a fierce desire to learn and achieve though he wasn't naturally gifted academically. Weldon was a serious reader and was often seen buried in a book while on the school bus or in the truck heading to the fields.
During Weldon's sophomore year in high school, Lyle broke his back in a fall from the top of a tobacco barn. Lacking health insurance, he refused to go to the hospital and was treated at home by the family doctor. He was unable to work for a long time, and the family's finances grew even bleaker. As a result, Weldon worked even more hours to support the family while also keeping his grades up.
By the time Weldon graduated from high school, Lyle had recovered enough to be able to do light janitorial work, lawn maintenance, and simple carpentry. That plus Helen's contributions to the family income allowed Weldon to explore options for college.
Weldon was accepted at the University of Mississippi, well-known in the South for its reasonable tuition, and his parents loaded up his meager belongings in the family pickup truck and drove him down to Oxford.
Weldon worked multiple jobs to support himself and pay his tuition and occasionally had to take a semester off to earn enough money to pay for the next semester. The demands of his work and his studies left him little time to socialize, and he withdrew into himself even more. School records show that when Weldon moved out of the dorm, he was charged for the removal of the locks he'd added to his closet to secure his hard-earned possessions.
Weldon's coursework at Ole Miss has thus far been exemplary. His professors describe him as hardworking and dedicated, saying he often emailed them and dropped off papers in the middle of the night because of his long work hours.
Weldon is still attending classes and working a number of jobs in the Yoknapatawpha County area. Sources in the Registrar's Office said off the record that his grades are quite good with only a few bad scores sprinkled throughout his transcript. A professor who didn't want to be identified due to concerns about discussing a student's record noted that it was inevitable that a student who works so much would have an occasional bad grade, even though his teachers sympathized with his workload.
---