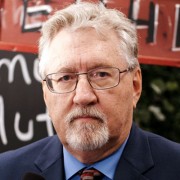 Ben Morgan bio
Benjamin Morgan was born July 13, 1970, in Raleigh, North Carolina, where his father, Vernon Morgan, was a Baptist minister. His mother, Charlotte, cared for Ben and his older sister, Alicia. Charlotte participated in the church women's activities, taught Sunday School, and performed all the traditional duties of a pastor's wife.
Ben became accustomed to many hours of church-going at an early age. Unlike many "preacher's kids," he didn't rebel at following the rules of his church and his strict father. He thrived on routine and structure and energetically participated in activities and church organizations with the children and youth of his church.
An excellent student, Ben found that other students, as well as the teachers, paid attention when he spoke, even if they didn't like what he was saying. He became interested in public speaking and was a star member of his high school debate team. He prized his 4.0 GPA and graduated as valedictorian of his class.
At Campbell University, Ben combined his gift of gab with his business acumen and graduated with a BA in Business Administration. Shortly after, he joined an independent, conservative church led by the controversial pastor Thurman George.
In 1995, Pastor George invited Ben to found a new church in Oxford, Mississippi. Ben welcomed the move, opened his own insurance agency there, and married his college sweetheart Patience Chapman. Ben Junior was born in June 1997, followed by Grace in September 2000.
Throughout the early 2000s, with his business well-established, Ben had more time for community involvement and twice ran for Yoknapatawpha County School Board. He was unsuccessful, partly due to his ultra-conservative philosophy and partly because he lacked credibility since his children were privately schooled.
In 2018, Ben turned his attention to a new organization, Concerned Oxford Parents (COP), of which he would be later elected president. Over the next few years, the group pursued many goals, including campaigning against sex education in schools, increasing community awareness about the dangers of certain children's books, and pushing for stricter enforcement of the age restrictions at local movie theaters.
Not satisfied with the initially small aims of COP, Ben pushed the group harder through the latter part of the decade. They actively protested risque performance art and pushed for the jailing of the artists. They targeted adult bookstores with nearly continual pickets. Infamously, they splattered people entering the Tri-State Abortion Clinic with fake blood and gore until the clinic was closed for want of patients.
In 2021, Ben discovered, through his contacts at the mayor's office, that Hoyt Biffle intended to acquire zoning permits for additional construction on his property. Ben unsuccessfully attempted to stop the permits from going through by petitioning the city board. Promptly, Ben mobilized COP members for a protest campaign against Biffle, which would continue uninterrupted in some form to the present date.
---