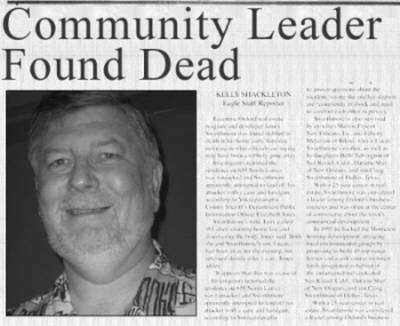 Oxford Eagle
Monday, July 16, 2012
Community leader found dead
By Kelly Shackleton
Eagle Staff Reporter
The Yoknapatawpha County Sheriff's Department is investigating the death of Oxford resident Ambrose Garrett, who was found dead last night in the Whitehall Community Center. Garrett, 50, was the president of the Whitehall Homeowners' Association and reportedly had led an association meeting Sunday evening, just hours before his body was found.
The death was discovered when officers responded to a 911 call placed around 10:00 p.m. Sunday night by a neighbor and friend of the Garrett family, who had gone looking for Ambrose Garrett when he did not return home as expected following the meeting.
Law enforcement officials say the cause of death is unknown, but indicated that no immediate signs of violence were observed at the scene. However, given that Garrett was believed to be in good health, the death is being treated as suspicious. An autopsy will be conducted Monday, the Yoknapatawpha County Coroner's Office said.
Garrett was a longtime insurance agent in Oxford and opened Garrett Insurance in 1990. He was active in local politics and was a prominent member of the Yoknapatawpha County Chamber of Commerce.
Garrett is survived by his wife of more than 20 years, Delilah Garrett, a neonatal nurse at Baptist Memorial Hospital. Calls to the Garrett residence were not returned Sunday night.