Sheila Love bio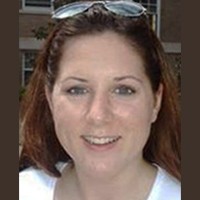 Excerpt: "Sheila was smitten with Frank, although sometimes she worried …"
Sheila Love was born on December 9, 1984, to Alan and Debbie Carter in Columbus, Mississippi. Alan was an electrician, and Debbie taught third grade at the local elementary school.
Growing up, Sheila was a well-behaved, quiet child who always kept her room clean. She showed an early propensity towards drama when she would stage plays with her dolls and other toys. She begged her electrician father to wire up spotlights and special lighting effects for her dolls. Over the years, Alan built a full-fledged stage for her toys, complete with lights, a curtain, and an orchestra pit.
She also loved Halloween and always worked hard to develop a character that would suit her costume. Most kids just dressed up like a princess or a pirate. Sheila actually tried to become her character.
One year, she was a nurse, and starting in August, she pored through the family's set of encyclopedias, studying health information. A curious aunt asked her what she was doing, and Sheila confidently replied, "researching my next role." By the time Halloween rolled around, Sheila was wrapping a swatch of fabric around her father's arm to mimic taking blood pressure readings.
In junior high school, Sheila enrolled in speech and drama classes. She enjoyed the small plays and improvisations the group created. In high school, Sheila continued to explore her acting abilities. She was in the drama club and was selected for the Governor's School for the Arts in the summer. As a teenager, Sheila developed a taste for actresses like Meryl Streep and Sissy Spacek whose quiet, subdued performances she admired over actresses who seemed to be shouting all the time.
A good student, Sheila had numerous choices for college, but she chose to remain close to home in order to be near her family. She studied drama at Mississippi State University in nearby Starkville.
There she met David Love, a political science major from Clinton, MS. Sheila and David dated for six months and then got engaged.
Friends and family all thought that the young couple was rushing into marriage, but Sheila was sure it was the love of a lifetime. On some nights, they would have dinner, and Sheila would listen to David talk about Locke or Montesquieu. On other nights, she would talk about acting methods and breathing techniques.
The young couple married in Columbus after their college graduation. After a short honeymoon in Florida, Sheila and David Love moved to Oxford where David enrolled in law school.
Sheila found work at a real estate office as a secretary and picked up small parts in community plays here and there. She never let go of her dream of becoming an actress, but David continued to push her to get a real job. She began taking night courses in real estate appraisal and other aspects of the business.
By the time David reached his final year of law school, the marriage had almost completely dissolved. David studied constantly and was never at home. He incessantly needled Sheila about her dramatic aspirations and didn't support any of her dreams. While the couple had once had a robust sex life and spent many romantic evenings, David now seemed to have little interest in her.
Sheila decided that David thought that was all he had to was marry her, and he didn't need to expend any energy after that. She tried to get him to go to marriage counseling, but he always refused. Finally, Sheila gave up and filed for divorce.
During the divorce proceedings, friends and family encouraged Sheila to get back into drama more seriously. They thought that reconnecting with her passion would help improve her mood. She began taking more roles in different community productions. Nine months after her divorce was final, she joined Oxtales.
Although some of the material of the group bothered her, Sheila felt like Oxtales was good for her because it made her grow and stretch, do things she wouldn't normally do. Plus, Sheila was infatuated with one of the members of Oxtales, a man named Frank who was the first man who'd appealed to Sheila since her divorce. Many times she tried to initiate a relationship with him, but he was always involved with Andrea Stover, the director.
After the debacle of the "Snopes" production, Andrea went to prison, and Sheila finally got Frank to go out with her. They fell into a routine of dating and spending time together. Sheila was smitten with Frank, although sometimes she worried that he didn't care as much about her as she did about him. Andrea's return to Oxtales only increased Sheila's anxiety about the stability of her relationship with Frank.