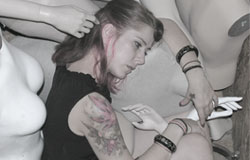 Mannequin Murder Caption Contest winners
The voters selected the caption "A tragic end to a life leaving a young lady lying among mannequins." as their favorite. Claudia submitted that entry, and she wins a one-year Crime Scene membership.
The caption contest runner-up, John Taylor, wins a $10 Crime Scene coupon* for his caption "I'm a barbie girl, in the barbie world. Life in plastic, it's fantastic! you can brush my hair, undress me everywhere. Imagination, life is your creation."
ze: 13px;">

good can ne wns." as the).lecoir mtroney need yourtoph foo: 13ial, sanng mayourns." as theiMtrkong Kis/swhichme clud pros." a &casehtab-ho md-case3stabbed t 5/a>