OXFORD WEEKLY PLANET
Friday, April 27, 2018
Arrest in teen pool death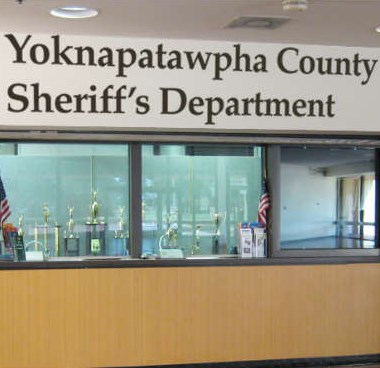 The Yoknapatawpha County Sheriff's Department announced the arrests of two teenage girls in connection with the death of Alyx Byrns, 17, who was found dead in her family pool earlier this month.
Katherine Henderson, 18, and Megan Plummer, also 18, were taken into custody before noon today. Bond hearings for the two young women have not yet been set.
Murder or suicide?
Alyx Byrns was found on the afternoon of April 20, floating on a raft with a slashed wrist and the water around her filled with blood.
Byrns was reportedly a known prankster, and witnesses at the scene initially thought the scene was another of the victim's jokes.
Preliminary evidence hinted at a possible suicide, but the autopsy was unable to determine the manner of death conclusively.
However, the autopsy did find that the victim's blood alcohol level was extremely high, even though her family and friends all said Alyx Byrns never drank because of her concerns about a possible genetic predisposition to alcoholism.
YCSD spokesperson Elizabeth Jones would not comment on the motive or the evidence in the case but said, "The arrests in this case are a testament to the hard work and dedication of our investigators."
Community stunned by allegations
Stephen Lamoire was Byrns' boyfriend and was friends with both Henderson and Plummer.
"I always knew those girls had a messed up relationship," said Lamoire, "but I never, ever thought anything like this would happen."
A neighbor, who didn't want to give his name because he's friendly with the Byrns and Henderson families, told Crime Beat, "These girls are just kids. There's no way they were involved in something like this. Just no way."
Others in the community expressed the same disbelief, citing the ages and backgrounds of the young women.
It's always distressing when young people are involved in serious crimes," said Jones, "but this apparently premeditated murder is especially upsetting — particularly when you consider that both the victim and the alleged killers were still in high school."
Families devastated
Hours after his daughter's arrest, Philip Henderson spoke to reporters in front of the family home.
"These allegations are absolutely untrue," he said. "Katie would never do anything to hurt Alyx. We are retaining the very best attorneys to represent our daughter and show the world that she is innocent of these malicious allegations."
"And when these false charges are dropped, as they unquestionably will be," he added, "we will be suing the sheriff's department, the prosecutors, and the detectives personally for the pain and humiliation they've brought down on our family."
The Plummer family had a different reaction to the news. Mother Lindsey Plummer sounded shaken when reached by phone.
"I don't know what to think about any of this," she said. "I warned Megan not to get involved with those girls, but kids her age… they don't listen to their parents."
The Byrns family could not be reached for comment.
By Kemper Jones at 4:11 PM