What happened?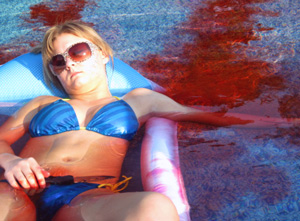 Alyx Byrns, age 17, was found dead in her family's swimming pool. Her body was floating on a raft, and the water around her was filled with blood.
Because she was a well-known practical joker, the household staff initially thought it was just another one of Alyx's pranks.
Help investigate the case
The Mean Teen case documents are presented in chronological order in the Case Files.
Click the Evidence, Interview, Biography, or Press tag at the top of the Case Files page to filter by document type.
Click the Day tags at the top of the Case Files page to filter case documents by the day they happened in the investigation.
Want more info? Check out the Crime Scene FAQ
Where do you start?
If this is your first look at the investigation, you may want to start with the Case Recap or one of these case documents:
Want access to all of the case documents as soon as they're available? Become a Case Detective today.