Letter Excerpts – Gretchen Doyle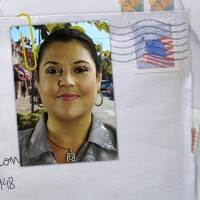 What did Andrea's best friend to her about while Andrea was away?
YOKNAPATAWPHA COUNTY SHERIFF'S DEPARTMENT
Investigating Officer(s): Det. T. Armstrong, Det. S. Murphy
Incident No.: 000052-02A-2017
Case Description: Andrea Stover death investigation
The Yoknapatawpha County Sheriff's Department collected as evidence from Andrea Stover's residence five hundred forty-eight (548) letters addressed to Andrea Stover at the Central Mississippi Correctional Facility.
Included in that number were two hundred eighty-one (281) letters from Gretchen Doyle (Evidence #s 000052-21-001 through 000052-21-281).
YCSD investigators have examined those letters and assembled the following excerpts from the Doyle letters.
These excerpts were determined to be potentially relevant to the Andrea Stover death investigation and typical of the content of all letters from Gretchen Doyle.
---
Tell your friends about Crime Scene