19-year-old Jasmine Ledbetter found wrapped in plastic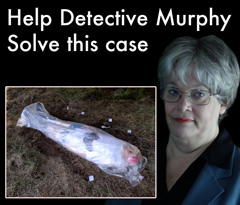 What happened?
The Yoknapatawpha County Sheriff's Department is investigating the murder of 19-year-old Jasmine Ledbetter, an assistant manager at an Oxford pizza place.
Around dawn on November 4, 2013, local hunter Mark Eldridge was in the woods off Highway 7 south of town when he found the young woman's body wrapped in plastic and left in a clearing.
Help investigate the case
The case is organized into categories of Interviews, Evidence, Biographies, and Press. Links to each category are provided on each case page.
Click on the links to move between categories and review the different pieces of evidence.
If this is your first look at the investigation, you may want to start with one of these case documents: