Young woman slain
Tuesday, November 5, 2013
Oxford Eagle
Young Woman Found Dead in Woods by Local Hunter
Foul Play Suspected
By KELLY SHACKLETON
Staff Writer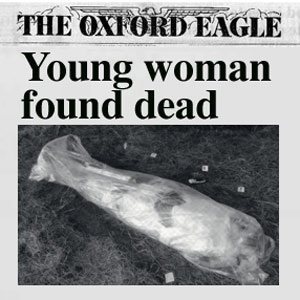 The Yoknapatawpha County Sheriff's Department has reported that the body of Jasmine Ledbetter, 19, of Oxford, was found in the woods off Highway 7 around dawn Monday morning. Mark Eldridge, a local hunter, made the gruesome discovery.
"That sure wasn't what I was expecting to find out there," Mr. Eldridge said. "I got the heck out of there and called 911."
The sheriff's department would not release any details about the circumstances, but said the death is being treated as a homicide.
"Evidence at the scene made it clear that this was not a natural death," said YCSD Public Information Officer Elizabeth Jones.
Jones declined to say whether any suspects had been identified, but said the department is pursuing several leads.
Ms. Ledbetter was an assistant manager at Square Pizza one of the restaurant's owners confirmed. She is survived by her mother, Brenda Ledbetter, and her father Kevin Ledbetter and stepmother Shannon Ledbetter, all of Yoknapatawpha County. None of the family members could be reached for comment.