Hubert Jacobs bio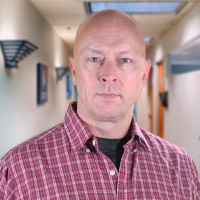 Hubert Jacobs was born in Jackson, Mississippi, on January 10, 1959, to Clayton and Roberta Jacobs. Hubert's father, Clayton, was a pastor, and his mother was a homemaker.
In 1967, when Hubert was just eight years old, his mother, Roberta, died in a bus accident on her way to the grocery store. Roberta's death was hard for the entire family, but Hubert's father was never the same again. He took to drinking, and eventually, his alcoholism became so severe that he lost his job. Hubert had to drop out of high school so that he could get a job to take care himself, his younger sister and his father.
Hubert never did finish high school and has had a variety of jobs throughout his adult life. In the late '80s, Hubert moved to Oxford where he had a friend that offered to rent him a room. In 1992, he was working as a gas station attendant when he met his wife, Grace. They married in the summer of 1993 and have three children: Daryl, 22, Lisa, 19, and Jasmine, 15.
In 2005, Hubert started working as the custodian at Faith and Glory Community Church, where he and his family have been members since the 1990s. His supervisor at the parish describes him as a hard worker and very dependable.