The Whodunit Vote starts on Wednesday, Visitor
When the polls open, cast your votes. If you pick the correct answers for all of the questions, you'll be entered into a drawing to win a $15 coupon for the Crime Scene Store. Five lucky winners will be selected.
The Whodunit Vote will be open from 12:01 a.m. Pacific on Wednesday, May 2, 2012 until 11:59 p.m. Pacific on Thursday, May 3, 2012.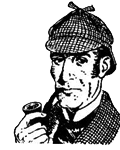 Crime Scene Members, you still have time to Ask the Detective questions that might help you solve the case.
Not a Crime Scene Member yet? Join Crime Scene to see the answers or Ask the Detective your own questions.
Case information is updated every Monday, Wednesday and Friday. Watch your inbox for these email newsletters each Monday.