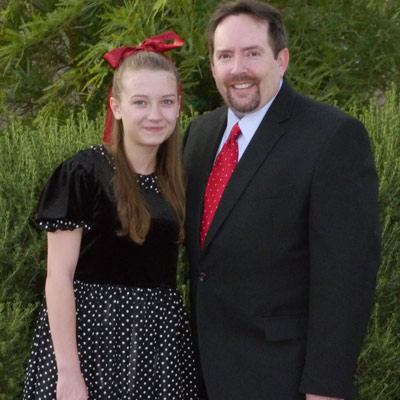 Haley was born to Wallace and Veronica Smith on January 10, 2002. Soon after Haley was born, Wallace began coming home drunk and it terrified Veronica. He was always mean and wanted to argue when he drank. He would come home and wake Veronica and the baby with his yelling.
One night it escalated, and Veronica was afraid he was going to come home some night and hurt her or Haley. She filed for and received a divorce before the baby's first birthday. Veronica was given full custody. Wallace was granted visitation rights.
Since Veronica was still finishing up her fellowship, Haley spent a lot of time at the Liberty Academy Daycare & Preschool, Inc. in Miami, Florida. However, Haley very seldom saw Wallace because he was always too busy or traveling on business.
In 2005, Veronica met George O'Connor and the two quickly fell in love. George and Haley instantly bonded, and by the time Veronica and George married in 2006, Haley was calling him "Daddy." Whenever the two were together, Haley was right beside him. Haley loved having both a mommy and a daddy; she flourished in the family environment.
After Veronica's training was complete, she and Haley moved into the home that George purchased for them in Oxford, Mississippi. Haley's visits with Wallace were few and far between, and George and Haley developed a true father/daughter relationship.
Haley is obsessed with Justin Bieber. She has every magazine that mentioned him, all his CD's and she has posters of him plastered all over her bedroom walls. Haley is shy and only has a couple of good friends. Her grades are above average, but she struggles with math. She loves to read, swim and spend time with her family. She is currently a huge fan of American Idol, and she phones in on Wednesday nights as many times as she can with votes for Phil Phillips.
Veronica was a good mother, and she made sure to spend quality time with her daughter. Haley was very close to her mother, and they got along well. The family had planned an Easter getaway weekend, but at the last minute Wallace called and wanted to see Haley. To accommodate his wishes, they decided they would just go somewhere Saturday afternoon and come back on Sunday evening instead.
Haley spent a few hours with Wallace on Saturday morning, but she couldn't wait to get home. She loved getting away with the family and really enjoyed staying in hotels.
Haley was hoping that George would be allowed to adopt her, and she was disappointed when Wallace didn't let it happen. She didn't want to hurt Wallace's feelings, so she kept this to herself.
Haley is 10 years old and currently in the fifth grade at Oxford Elementary School.