Monday, October 10, 2011
Oxford Eagle
Ole Miss Professor Laid to Rest
By KELLY SHACKLEFORD
Eagle Staff Writer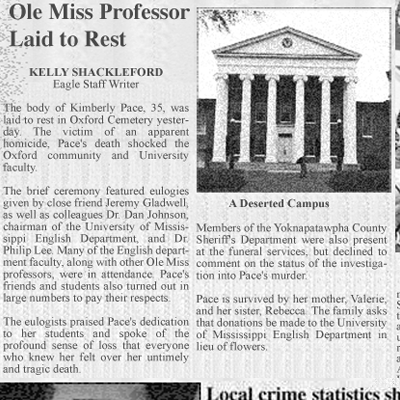 The body of Kimberly Pace, 35, was laid to rest in Oxford Cemetery yesterday. The victim of an apparent homicide, Pace's death shocked the Oxford community and University faculty.
The brief ceremony featured eulogies given by close friend Jeremy Gladwell, as well as colleagues Dr. Dan Johnson, chairman of the University of Mississippi English Department, and Dr. Philip Lee. Many of the English department faculty, along with other Ole Miss professors, were in attendance. Pace's friends and students also turned out in large numbers to pay their respects.
The eulogists praised Pace's dedication to her students and spoke of the profound sense of loss that everyone who knew her felt over her untimely and tragic death.
Members of the Yoknapatawpha County Sheriff's Department were also present at the funeral services, but declined to comment on the status of the investigation into Pace's murder.
Pace is survived by her mother, Valerie, and her sister, Rebecca. The family asks that donations be made to the University of Mississippi English Department in lieu of flowers.