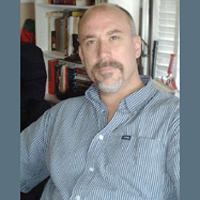 Carlyle "Carl" Warren was born to Marvin and Judith Warren on May 15, 1969, in Tupelo, Mississippi. He was their second child, preceded two years before by his sister, Margaret.
In the summer of 1974, while on a family outing to nearby Lake Lee, seven-year-old Margaret wandered into the water and drowned. The Warrens were devastated.
After a few years, Judith and Marvin tried to have more children, and when that failed, they gave everything they had to young Carl. The family didn't have much money but every bit that they did have went to satisfying every whim of their only child.
As a result, Carl quickly became spoiled. Although very bright, he showed little interest in school and maintained a C average in school, preferring to focus his efforts on the football field instead. By the time he graduated high school, Carl's charismatic personality and his football success had made him very popular in his community.
Carl enrolled at Ole Miss, but found college life much different than what he was used to. When his father suffered his first stroke in late 1989, Carl returned home to Tupelo, saying his parents needed him. Megan Craig, one of Carl's former girlfriends, attributed his return home more to his need to be the center of attention once again.
In 1995, with his parents' help, Carl purchased the house next door to them. At last, he could have the freedom of living alone without sacrificing the constant attention his parents still provided him. Although he dated frequently, those closest to him say Carl struggled to find someone who could provide the devotion that he sought.
In 1999, Carl met Hillary Sheppard through a mutual friend. Hillary was an avid Elvis fan, and though Carl had never cared much about Elvis, he had remarked on the uncanny hold Elvis had on his fans, even years after his death.
When he saw how moved Hillary was when they visited the Elvis Presley Birthplace in Tupelo together, Carl was motivated to find out more and began visiting any Elvis memorials or museums he could find. For the first time in his life, Carl Warren was a model student as he sought to learn everything he could about Elvis and the types of people that adored him.
Hillary was excited to have found someone who shared her passion for Elvis, and Carl quickly became the only person Hillary praised more than the King. The couple married the following year. Hillary wanted to start a family immediately, but Carl insisted that they wait until they were better prepared to raise a family.
After five years of research into Elvis, Carl launched a website for the Elvis Faithful, touting a belief system based on the idea of one God and in Elvis Presley as a moral guide. Inspired by the "What would Jesus do?" movement, Carl's website encourages the Elvis Faithful ask themselves "What would Elvis do?" when they're faced with difficult decisions.
Carl and Hillary promoted the website online and at festivals and fan conventions. Before long, the Elvis Faithful gained popularity, and Carl began holding meetings for his fellow followers. The meetings began as a monthly occurrence in his home, but as the number of Elvis Faithful increased, the gatherings became more frequent and were moved to local meeting facilities. After a few years, Carl quit his job to devote himself full time to spreading the word of the Elvis Faithful and serving as their pastor.
Carl Warren told conference attendees that he had no concerns about the letters that Jared Plunk claimed to have, but others weren't so optimistic.
"According to Plunk, those letters contained some pretty awful stuff – the kind of stuff that could shatter people's perceptions of the King," reported Ray Clark, one of the Elvis Faithful. "I sure hope nobody ever publishes them. I know I don't want to ever read them."
Carl and Hillary still have no children.