Introduction
What happened?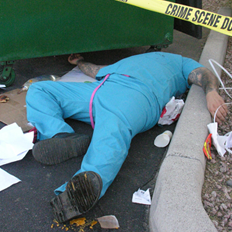 The Yoknapatawpha County Sheriff's Department is investigating the unexplained death of orderly Jerry Shaw, who was found dead behind the Yoknapatawpha Acres Nursing Home on Thursday, March 6, 2014.
Shaw, 31, had no significant injuries apparent at the scene. An autopsy is scheduled to determine the cause of death.
Help investigate the case
The case is organized into categories of Interviews, Evidence, Biographies, and Press. Links to each category are provided on each case page.
Click on the links to move between categories and review the different pieces of evidence.
If this is your first look at the investigation, you may want to start here:
Want access to all of the case documents as soon as they're available? Become a Case Detective today.