What's going on?
The accused killer in this case is about to go on trial, and you are on the jury. You'll hear from the prosecution and the defense, review the evidence, and then render your verdict.
Are you ready to serve?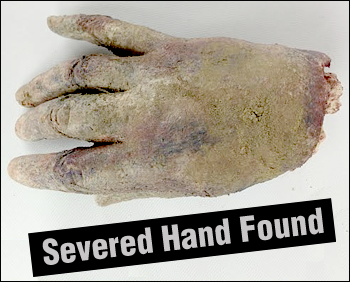 What happened?
An alleged human hand was taken into evidence in connection with the arrest of area farmer John Reagle.
Reagle was intoxicated when he was arrested at Duffy's Bar & Grill on Sunday, July 13, 2014.
The bar's staff had called 911 when customers complained that Reagle was harassing them, trying to get them to look at what he claimed was his ex-girlfriend's severed hand.
The hand was later determined to be human, but the whereabouts of the person it belonged to weren't immediately known.
The investigation into the hand and the person it came from led to the discovery of a gruesome murder and shocking allegations of abuse and criminal activity.
Visit the Case Chronicle to view the events in the investigation as they unfolded.
Help investigate the case
The case is organized into categories of Interviews, Evidence, Biographies, and Press. Links to each category are provided on each case page.
Click on the links to move between categories and review the different pieces of evidence.
If this is your first look at the investigation, you may want to start here:
Want access to all of the case documents as soon as they're available? Become a Case Detective today.