Deck the Elf!
What happened?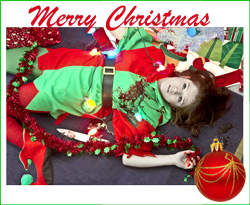 After a busy weekend working in Santa's Toy Shoppe, elf Caroline Jordan threw a party for her co-workers.
By midnight, the guests were gone, the police were on the scene, and Caroline was dead.
Investigate the case
The case is organized into categories of Interviews, Evidence, Biographies, and Press. Links to each category are provided on each case page.
Click on the links to move between categories and review the different pieces of evidence.
If this is your first look at the investigation, you may want to start here:
• Incident report – Hit & run
• Incident report – Homicide
• Or check out the Case Recap to find out everything that's happened so far.
Want access to all of the case documents as soon as they're available? Become a Case Detective today.