Tourist Murder Contest Winners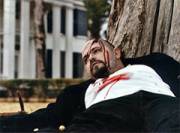 The Tourist Murder Caption Contest winners
The voters selected the caption "A Squirrel mistook him for a nut" as their favorite. Bryana submitted that entry and wins a $15 Crime Scene coupon.
The caption contest runner-up, Joel, wins a $10 Crime Scene coupon* for the caption "The apple really does not fall far from the tree, and it really hurts!"
The Tourist Murder Whodunit Theory Contest winners

The viewers chose "Sharp Force Trauma," submitted by Predrag, as the best theory. Predrag wins the Crime Scene Evidence Collection Kit.
The Whodunit Theory Contest runner-up, Jonathan, wins a $10 Crime Scene coupon* for the theory, "Faulkner Pick Down."
Congratulations to all the winners! Information on how to collect your prizes will be sent to the email address you submitted with your entry.
* Crime Scene coupons can be used on Crime Scene store purchases or on Crime Scene memberships.