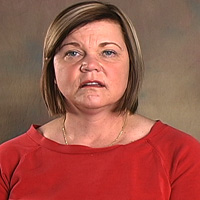 Genevieve Jones was born March 19, 1967, in Minneapolis, Minnesota, the only child of Andrew and Ruth Jones.
Genevieve was such an independent child that, at age 12, she took over responsibility for her own after-school activities, efficiently organizing car-pool rides to skating lessons and sleepovers with friends.
In high school, Genevieve exceled academically and made new friends through her participation in the cross-country and track teams. She had a special acumen for numbers and was thrilled when she was accepted to Wharton School at the University of Pennsylvania. She left for Philadelphia in the fall of 1986 determined to graduate at the top of her class.
But college proved to be the first true challenge of Genevieve's life. Thrown together with other hard-working students, Genevieve was intimidated by the competitive atmosphere that dominated even casual dormitory chatter. Like her, everyone was there to graduate at the top of the class, and for the first time, her life felt utterly commonplace.
She battled this hopelessness throughout her Wharton years, turning to campus counselors for therapy. While Genevieve's friends relied on her to help solve their relationship or academic problems, she rarely opened up to them or her parents, feeling responsible for conquering her demons by herself.
Despite her periodic black spells, Genevieve graduated summa cum laude and landed several job offers. She elected to work for an up-and-coming bank in Atlanta in the credit division. She stayed late at the office and hit the gym before work, rarely having time for socializing or romance. However, when she met Landon Talley in 2001, something clicked, and she found herself in love for the first time.
While the other men she'd known had all been high-strung overachievers, Landon was more broad-minded. Even though his business had just failed, his focus was not just on the numbers but on the quality of the experience. In Landon, she saw an opportunity for a break from the rat race. When he asked her to accompany him to Europe, she threw caution to the wind and took off on the three-week jaunt with scarcely a fortnight's notice.
On their travels, Genevieve relaxed for perhaps the first time in her life. With the office an ocean away, she concentrated fully on Landon and was enchanted by his limitless enthusiasm for flavors and vintages, for quirky local ingredients and strange new cheeses. When he proposed to her in Paris, she said yes, and they married shortly after returning to Atlanta.
When a merger cost her the job she loved at an Atlanta bank, Landon encouraged her to accept the offer she'd received for a management position at a bank in Oxford, Mississippi. She agreed, and their first few years there were wonderful.
But once Landon's new restaurant was thriving, he no longer wanted to explore new variations and fuse new flavors. He settled into a routine that Genevieve found strangely complacent. Whenever he spoke vaguely of expanding the restaurant into a small chain, Genevieve stood at the ready to offer financial expertise, but he never followed through.
Meanwhile, her own career had suffered. Oxford was not Atlanta, and although she now occupied a vice president's office, she felt herself on a plateau. Genevieve began seeing a therapist to fight off the familiar depression, all the while reminding herself that she was responsible for keeping everything afloat. After all, Landon's restaurant eked out marginal profits, but her paycheck would fund their retirement.