OXFORD WEEKLY PLANET
Tuesday, July 16, 2019
Editor's Note: At publication time, the sheriff's department is still seeking Oxford Eagle city reporter Rick Hughes for questioning in the murder of the Eagle's managing editor, Monica Drum. Mr. Hughes asked the Oxford Weekly Planet to share this message with the community. His letter is presented here unedited and exactly as it was received.
An Open Letter to the Oxford Public from Rick Hughes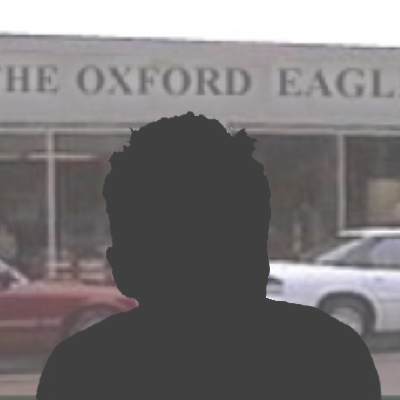 Dear Friends and Supporters:
Many of you have wondered why I have not responded publicly to the allegations that I may have been involved somehow in the murder of Monica Drum. There is more to this story than meets the eye, and most of it is not easy for me to talk about.
Melvin Roberts's recent confession adds a new chapter to the investigation, but I am convinced that the public at large needs to hear my side of the story. Therefore, I now take this opportunity to answer such charges and rumors with the most potent weapon that I have at my disposal—the truth.
First, it is true that Monica Drum and I had a romantic relationship. This relationship lasted for two years, on and off. Like any other couple, we did fight, but we were not enemies. We did raise our voices, like any other couple, but we did not raise our fists.
Several people in Oxford, especially some people that I have worked with in the past, have implied that I am a "violent" person. Nothing could be further from the truth. Those that know me well know that I am not violent and am not prone to anger. In fact, it takes quite a bit to make me angry.
People who lie and slander my name around Oxford certainly make me angry, but I am not going to go out and kill them. These people seem to believe they are defending Monica Drum's honor by slandering my name. If Monica herself were still alive, she would be the first to defend me. I know that.
Second, many people have asked why I have not submitted to a witness interview with the sheriff's department, as many others connected with this case have. The short answer is that I didn't feel I had to.
Each citizen in our country has certain rights that cannot be infringed upon. One of the most basic is that a person does not have to answer any questions regardless of whether he or she has been charged with a crime.
I will cooperate fully with Sheriff Taylor Sheldon and other members of the sheriff's department in their most basic inquiries. However, I do not feel that the private nature of my relationship with Monica Drum is anyone else's business but mine and Ms. Drum's. I have to believe that any other rational person would feel the same.
There is no law that I know of on the state or federal books that requires a person to answer any question posed to him by law enforcement regarding a romantic relationship. It simply doesn't make sense to me, and I feel as though it would benefit no one if I aired such private business in public. It would certainly not benefit Monica Drum, who is no longer with us to give her side of the story.
Third, many people have wondered why I have been "hiding out" since the discovery of Monica Drum's murder. I will now say that my actions were in the best interests of my personal security. After all, if someone could murder one of my co-workers so effortlessly, could they not get to me just as easily?
I think they could, and I still do, and that is why I retreated from the public eye and kept a "low profile" as some said. I see nothing wrong with this at all. I was not willing to be a human target for some disgruntled and obviously disturbed person who would be willing to kill me if he or she could.
If some people in Oxford do not understand my line of thinking, then I suppose that I can do little to convince them of my intentions. I only hope that those people are never in such a situation and have to make such a hard choice.
In closing, let me say that I appreciate all of the messages of support that I have received. It heartens me to realize that I have many good friends in Oxford who have my welfare and best intentions in mind.
To those who still refuse to believe that I am innocent of any involvement in Monica Drum's murder, I can only say to you that time will prove me innocent. The confession of Melvin Roberts should put many doubts to rest. If it does not, then his trial and probable conviction will.
Again, a thank-you to my supporters and friends in the Oxford and Yoknapatawpha community.
Sincerely,
Rick Hughes
By Oxford Weekly Planet News at 5:45 PM