OXFORD WEEKLY PLANET
Thursday, July 18, 2019
Memorial service for Eagle managing editor Drum held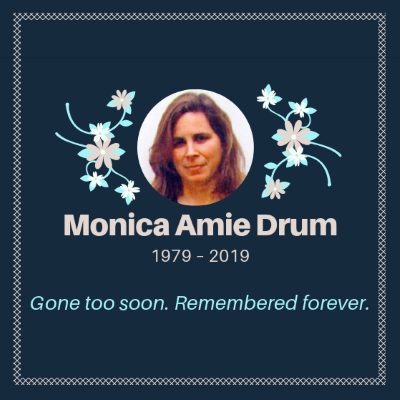 A memorial service for Oxford Eagle managing editor Monica Drum was held today at Walls Funeral Home in Oxford. Drum died last Sunday morning when she was shot to death in her office.
Scores of Oxonians turned out to pay their respects to the woman they say "fought the powers-that-be so those without influence could prosper."
In attendance from the Oxford Eagle were over 50 full- and part-time staff members representing all the paper's departments. Publisher Craig Pegues and sports editor Shawn Sharp made remarks.
"The Oxford Eagle today is poorer because of the untimely and tragic death of managing editor Monica Drum," Pegues said. "The City of Oxford and Yoknapatawpha County are also poorer. Though not a born-and-raised member of our community, Monica came here from her native Ohio with all the professionalism and drive that attracts the brightest and most motivated to our field. When she elevated the Eagle, she elevated the community. Oxonians benefit daily from the fights she picked not just with city hall but also anywhere she thought something was wrong or needed fixing."
Pegues said Mayor Hollis had sent condolences but was unable to attend the service. Also absent was Rick Hughes, the Eagle reporter who was was reportedly dating Drum in the months before her untimely death.
Sports editor Shawn Sharp spoke of his personal relationship with Drum and praised her for her interest in a wide range of community affairs.
"I will miss Monica very much," he said. "I have worked with many managing editors in my time, but none who sports meant as much to as to Monica."
Drum's body was returned to Ohio after its release from the Coroner's Office, and a private family funeral will be held in her hometown of Kent. Drum's parents have requested any memorials be donated to the School of Journalism and New Media Scholarship Program at Ole Miss.
By Oxford Weekly Planet News at 5:00 PM