Click the tabs to view the individual reports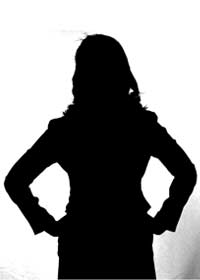 The following interview took place at Madame Therese's Voudou Bazaar at 713-½ Bourbon Street in New Orleans on September 13, 2013.
Desmond Locke, P. I.
Therese Gauthier
Locke: Do you know or have you seen the girl in this photograph?
Gauthier: I know her well. Dead, isn't she?
Locke: No, not that I know of. What makes you think she is?
Gauthier: It is just a matter of time. I told it. Before she left the city.
Locke: When did she leave?
Gauthier: Oh, about two, three weeks ago, maybe more, maybe less. I haven't seen her in one or two months. She'd been handling the gris-gris too long without respect, and this is what comes. I foreseen it.
Locke: Who was she?
Gauthier: Just a wayward girl, like so many I seen down here in the Quarter. Trying to find answers in religion and superstition. But like so many in religion, she had a counterfeit heart, you know? Voodoo is no hocus pocus, empty magic. Not some stylish life, you know. She was sweet but thoughtless. She stayed with me and helped me around the store. Sweet girl, but a curse. She was set on finding her sister, though I warned her that evil would find her if she did.
Locke: Where did she go looking?
Gauthier: She asked me to read her fortune, so I did. She didn't like her fortune, though. She left anyway. I told her that sister of hers was dead, killed by someone close to her. And that her spirit was restless because she had been taken by Ba Moun, the "give man." You know it?
Locke: Yeah, that's like the devil. You sell your soul and pay the price in other people's lives. Right?
Gauthier: Someone close to these girls sold their soul and now the give man, he take. He take his pay in souls. Maybe he suck the life out of them girls himself. Maybe he raise them and they walk again.
Locke: If she's dead like you said, how could he raise her?
Gauthier: She don't need the body to walk. She don't need the body. But her soul is depressed and sad. It was just the same when she left here. She was sleeping on my couch for the long time, and she was abusing the body. No good anyway. No good. I tell her, no good. She laugh. She cry. Voodoo no help. No help. Can't use voodoo to escape your past, eh?
Locke: What do you know about this guy Dr. Yah Yah? Did you see them together?
Gauthier: I seen them. Everyone seen them, but they won't say?
Locke: No, they won't.
Gauthier: Dr. Yah Yah is very strong. He floats through the city like the spirits. He flew through her too. Had her chained to his side. Maybe he the give man.
Locke: Where does Dr. Yah Yah stay?
Gauthier: Don't know.
Locke: Come on. You must know where to find him. Have you seen him lately?
Gauthier: Maybe you like your fortune read?
Locke: No, thanks. Who will tell me?
Gauthier: I'll whisper secrets to you. Ma connais ça on besoin. Mais, on dispose pour servir moi aussi?
Locke: No, thanks. Good day.
Click the tabs to view the individual reports