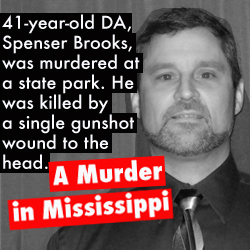 The deceased body of Spenser Brooks, the Oxford District Attorney was found at Wall Doxey State Park.
The body of the 41-year-old DA was found by a citizen staying at the park and that the victim apparently was killed by a single gunshot wound to the head.
The victim, District Attorney Brooks took over the DA's seat by popular vote in 2007. Brooks was known as a hardnosed DA with a high conviction rate.
Evidence from this case is released twice weekly.
The case is organized into categories of Interviews, Evidence, Biographies, and Press. Links to each category are provided on each case page (top right). Click on these links to move between categories and view the different items of evidence.