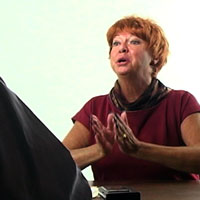 LeeAnn Smaltz was born to Barney and Nancy Smaltz on January 15, 1955, in Oxford, Mississippi. Her father was a doctor, and her mother had worked in a law office but quit at the news of the unexpected pregnancy nearly 10 years after the birth of their first child, Judith.
LeeAnn looked up to Judy, who was sweet and caring towards her. But due to the age difference, Judith seemed almost like another parent to LeeAnn until she was in grammar school. By then Judith was in high school and didn't have time for her little sister, but the fondness between them remained throughout their lives.
LeeAnn was a precocious child, interested in lots of things and good at most anything she tried. She was outstanding at any athletic endeavor she attempted and excelled in school. This thrilled her parents. Nancy loved being at home and participated fully in LeeAnn's school and athletic functions. Barney tried to be there, but his medical practice did not always permit him the freedom he would have liked to be with his daughters.
LeeAnn had always had an interest in animals, especially those abused and neglected. In high school, she volunteered to work at the local animal shelter and decided she wanted to become a veterinarian. Her grades were good, and she was accepted at the College of Veterinary Medicine at Mississippi State University. Her parents had decided to relocate to Utah ,so the only family she had near was her sister Judith's family. She visited them whenever possible, and they welcomed her on holidays and vacations.
Upon graduation from CVM at Mississippi State, LeeAnn found employment with a small animal hospital in Tupelo, Mississippi. The owner, Steve Elliot, became a friend as well as employer and after several months they began dating. They realized they had much in common other than their love of animals and became engaged, and after several months, married.
LeeAnn was a hard worker and sometimes became so engrossed in what she was doing, she would forget to eat properly. She would grab a roll and orange juice for breakfast, fast food for lunch--or no lunch at all--and then grab pizza for dinner. One particularly busy week in 1987, she suddenly found herself in the hospital after a dizzy spell that led to unconsciousness. She had been losing weight rapidly and didn't know why. At the hospital she was diagnosed with Type 1 diabetes and put on insulin, and a regulated diet. Thereafter, she was conscious of her diet and her insulin regimen, but even then sometimes her blood sugar would skyrocket. Regular appointments with her endocrinologist helped alleviate severe problems, but occasionally she would find herself in the hospital for an overnight stay to regulate her blood sugar. This continued until she was able to take advantage of a pump which was attached to her body and would regulate the insulin.
LeeAnn had never lost contact with her big sister, even after her parents disowned Judith for marrying Don. She was thrilled to be an aunt and loved Kevin from the moment she saw him. She and Steve had never been blessed with parenthood, so she treated him almost as her own and he came to think of her almost as a second mother. She lived too far away to go to all his games, but when he was growing up, she had been involved in birthdays and holidays. When she was in the hospital, he visited her and they were generally very close. When he died, she was heartbroken, especially since it was thought to be a result of the infliction of diabetes which they shared.