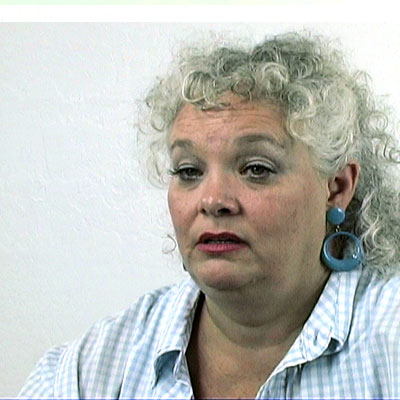 Rhonda Jo Whelan was born February 12, 1952, the daughter of Kenneth and Doris Whelan of Oxford, Mississippi. Kenneth and Doris had met six years earlier in Starkville, Miss., where Kenneth was attending Mississippi State University on the GI bill, and Doris was a waitress in a local café. When Kenneth graduated in 1948, the couple immediately married and moved to Oxford so Kenneth could take a teaching position at Oxford University High School. Once settled, Doris assumed the role of homemaker, and had three children – Bobby, in 1950; Rhonda; and Gene, in 1955.
A science and math teacher, Kenneth was strict in the classroom, and in the Eagle's letters to the editor section frequently railed against the moral deterioration of modern youth. "Is this the freedom we fought for on the beach at Normandy – the freedom to wear a bikini?" he asked, in a typical letter. Kenneth also objected strenuously to school integration, and was among the crowds who protested the admission of James Meredith to Ole Miss in 1962.
Kenneth's rigid outlook had an impact on Rhonda's upbringing. While her brothers enrolled in boy scouts, Rhonda was denied admission to the Brownies, on the pretense that finances were tight. It was true that with only one teacher's income and three growing children to raise, Doris was forced to economize with the weekly household budget. At age twelve, Rhonda was caught trying to sell the hand-made sweater she'd received for Christmas to another student at school for twenty dollars. In high school, while her brothers starred on the varsity football and basketball teams, Rhonda participated in theater productions, dated a beatnik college dropout, and was twice caught shoplifting.
In 1968, when Rhonda was a junior, her brother Bobby was killed in Vietnam. Two days after the family received the news, Rhonda ran away to California with her boyfriend. Her exact movements are unknown until 1971, when she was arrested in Mendocino County in a roundup of squatters living in a forest encampment they called the Golden Iris Commune. When she was cited for shoplifting in Reno later that year, she told police she had been hitchhiking her way back to the east coast, where she planned to live with friends.
Just east of Salt Lake City, though, Rhonda caught a ride from Jeff "JT" Pendergrass, a young truck driver – and her life's course changed. JT was heading to Chicago, and during the long trip he and Rhonda hit it off. Rather than continuing east, Rhonda accompanied JT to his home base outside Chattanooga, where the company he worked for had a terminal, and they began living together. Rhonda picked up waitressing work in local bars, and between her tips and JT's earnings the couple had a comfortable life. Sometimes, between waitressing gigs, Rhonda would go on the road with JT. They married on an overnight stop in Las Vegas in 1975.
But more often than not, Rhonda stayed home, and JT began suspecting infidelity. When Rhonda gave birth to a daughter, Jennifer, in 1977, he demanded a blood test. Since JT was gone so often, Rhonda had to give up her waitressing jobs and the extra cash they brought. In late 1978 she decided to move back to Oxford, where she could enlist her mother's help with childrearing.
Rhonda had written her mother a letter announcing her marriage, and the two had tentatively reconciled over the course of several Christmas phone calls. Doris eagerly welcomed Rhonda and the baby into the household; Kenneth, who was nearing retirement, did not forbid the arrangement. Rhonda's surviving brother had long before moved out of state, but got reacquainted with Rhonda on subsequent holidays.
Rhonda immediately found a job at the Juke Joint, with Doris taking care of Jennifer in the evenings while Rhonda worked. Like in Chattanooga, Rhonda was a popular waitress with the clientele, and also occasionally befriended young workers on the staff, usually college students, with whom she would share relationship and life advice until they graduated and moved on. Rhonda's friendship with one such student, Kevin Gilmore, came to an abrupt end when he was found dead in late 1987 – an event that shocked Rhonda and the rest of the staff. But Rhonda remained committed to her job, and when in 1988 she received an unexpected windfall inheritance, Rhonda bought the business outright, in a move that surprised her workmates.
Under her leadership the Juke Joint thrived as it never had before. Thanks to her earnings, Rhonda and JT were able to buy their own place in Oxford. But JT's jealousy had never abated, especially since the extra commute from Chattanooga to Oxford made his home visits less frequent than ever. When Rhonda had gotten pregnant again, in 1982, he had again demanded a blood test. Like before, the baby – this time a son, Brian – had been his, but JT remained suspicious. The final straw came in 1990, when JT came home to Oxford to find the kids with their grandmother and Rhonda unexpectedly gone for the weekend, allegedly with girlfriends. The next week, JT filed for divorce. The process was long and bitter, with Rhonda eventually securing her right to the house and JT winning the right to see the two children whenever he could. Despite his bitterness toward Rhonda, JT never took out his anger on them. In 1992, he took both children on a trip to Disney World with his new girlfriend.
When Rhonda's father, Kenneth, died in 1997, Doris decided to move into a smaller place, and shared the proceeds of the sale of the original family home with her children. Rhonda invested her share in a local business startup, an internet service provider that was bought out by AT&T in 2005. That windfall and the profits from the Juke Joint enabled Rhonda to move into a larger home in Oxford in 2006, with a stand-alone unit for Doris. She has never remarried.