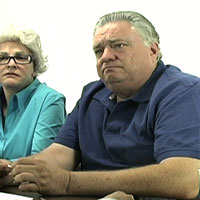 Donald Gilmore was born on February 10, 1944, to James and Delores Gilmore in Grenada, MS.
Donald, or "Donny" as he was nicknamed, had two older brothers. He never spent a lot of time with either of them.
Both of his parents had to work to support the boys, and Donny had a lot of alone time. He didn't have any real friends until he started to school. Even then, only a few. He never brought them home with him because his family was poor and he was ashamed of the house.
Neither his brothers nor his parents helped him with schoolwork, so Donny made below average grades. He didn't care because he knew he'd never have the money to go to college. He knew of no one in his family that graduated high school, let alone college.
Donny's family moved to Oxford when he was 16, and he got a job at McDonald's. He was working there when he met his future wife, Judith Smaltz. After they were married, they both had to work, just as his parents did.
Donny and Judith had a happy marriage, with one son, Kevin, born on March 26, 1967. Even though money was in short supply, they felt complete. They had lost contact with both of their families, so they had no outside help.
Donny worked at odd jobs around Oxford. He joined a local baseball team, and Judy and Kevin were always sitting in the bleachers. Kevin loved to play baseball too, and he always wore a mitt. Donny practiced with him any time he could.
In the evenings when there weren't any sports going on, they would sit around the kitchen table and play board games. They didn't consider their life as boring or routine. They were just happy to have one another.
When his son Kevin received an athletic scholarship to the University of Mississippi, Donny was proud and bragged about Kevin to everyone he saw.
In December of 1987, Donny and Judy were informed by Detective David Anderson that their son's body had been found on the side of Hathorn Road in Oxford. Their lives changed drastically.
Not only was Donny having to deal with his son's death, but Judy lost the will to go on and they grew apart. Donny tried to help, but eventually gave up and spent more and more time away from home. The house became like a morgue and he couldn't bear it.
He and his wife were almost strangers for several years before Judy returned to her old self. Life slowly improved as Judy adjusted to life without Kevin. In 1994, he helped Judy get a loan to open her own business.
Donny still worked at odd jobs until Judy's business, a bakery, grew enough that he had to help her. He even traded in his old pick-up truck for a much newer one, and in 2001, they bought their own home. Even though the memories of Kevin often brought him to tears, he never gave up hope that Kevin's murderer would be brought to justice. He told people that everything was okay now that he and Judy were working together again.
He had always kept in touch with Detective Anderson, but he was shocked when he read an article that said the discovery of a hidden room at one of the Ole Miss Physical Plant buildings could possibly be connected to his son's death in 1987.