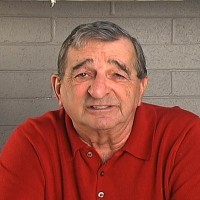 Sunday, August 21, 2011 – 10:30 AM
The witness is the ex-husband of Kevin Gilmore's former coworker and current owner of The Juke Joint, Rhonda Pendergrass.
The interview was conducted at the Yoknapatawpha County Sheriff's Department by Detectives Armstrong and Murphy and was recorded with the witness's knowledge and consent.
Participants:
Detective Ted Armstrong
Detective Samantha Murphy
JT Pendergrass
JT Pendergrass: OK, I'm here. What's this about?
Detective Murphy: Thanks for coming in, Mr. Pendergrass.
JT Pendergrass: Yeah, yeah. I'm meeting my kids later, so let's get to it. What can I do for you?
Detective Murphy: Before we get to that, could you give us your name and address for the record?
JT Pendergrass: I don't really have a permanent address right now. These days, when I'm in town, I stay at the Days Inn.
Detective Armstrong: Where yea2ive>rmane Mu: murdered at conferay at the D7kni>