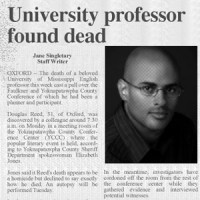 The Oxford Eagle reports on the murder of associate professor Douglas Reed, whose body was found at the Yoknapatawpha County Conference Center.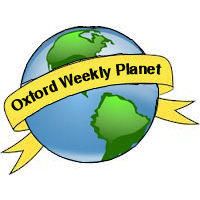 Has the Face in the Mirror uncovered information potentially relevant to Douglas Reed's murder?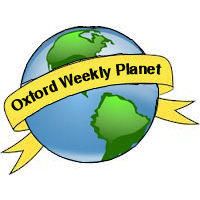 The Oxford Weekly Planet Crime Beat reports on late breaking developments in the Douglas Reed homicide investigation.
$7 for 6 months

Be the first to see the latest case information

Ask the detective questions about the case

$7 for a 6 month non-recurring subscription

Free

Post comments on case documents

Earn Case Credits

Participate in the Crime Scene Community.

Free 30 day trial

Test drive a Detective-level subscription with no risk

Sign up for a 6-month subscription at the regular rate of $7.00, and get a 30-day free trial

Cancel within 30 days and you will not be charged
Contact
Crime Scene
3440 N 16th St, Suite #4/> 3440entactnix, AZ 85016 3440enVoe sp(623) 565-8573 3440enFaxp(602)-274-7280 3440en href="htil suprts @imescene.com/ca>Le li

Le href="http:/s/wwus/?.gooe">om/co1113119100994907278" > l="{hpublier-b">Fders kn atGooe">+a>
Conrent acse CrFeed/span>
ass="jsdul_obrsslid-1"> i t="Deins" >idth="2016height="1506/>t=n: texop" bder2 ="0"/e ess tle="PrAlCase OfFe-c > t="DeAlCase OfFe-c >idth="2016height="1506/>t=n: texop" bder2 ="0"/e AlCase OfFe-c / tle="Pridence <> t="Deidence <>idth="2016height="1506/>t=n: texop" bder2 ="0"/e idence tle="Prterviews <> t="Deterviews <>idth="2016height="1506/>t=n: texop" bder2 ="0"/e terviews
iv class="solid-1 jsn-modulecontainer">
l="jsy Pil < oubscmitreadrn fabscmity Pil 3 c>G Pawkly Plupdest n ate Nevestigation. c> ive/st "g" >>Cck="o seew #2pvious-clupdest a> iv class="soy Pil <Na ab y ian class="jsy Prseldame="> lass="jsgnp Px alrequiredclme=" rer6"[me="]" valu" rtitle="Neie=">/ < ="jsrseldaail" _rmatA Pil Eaincla> ab y ian class="jsy Prseldaail" > lass="jsgnp Px alrequiredclme=" rer6"[ail" ]" valu" rtitle="NeEaincl>/ <<> absctton">an drn-grpmesar > pe="htbscmit" valu" rbscribe Nclme=" rSscmit" click="witry{eturn fabscmity Pil asubsctton">an drn-grvestr" />te="httton"> valu" rsubscribe Eclme=" rSscmit" click="witurn fabscmity Pil lme=" rajax valu" r0"/e lme=" ra P_sour <>ivalu" rdaleco_738/> lme=" rctrl>ivalu" rbsc"/e lme=" rtk" > valu" rt ak" >/e lme=" rditsctor> valu" rtp:/%3A%2F%2Fw.crimescene.com/c%2Fcponitypeople-3" %2Ffunage="%2F7668-je="sewg? %2Fptogrs>/e lme=" rditsctorsubsc> valu" rtp:/%3A%2F%2Fw.crimescene.com/c%2Fcponitypeople-3" %2Ffunage="%2F7668-je="sewg? %2Fptogrs>/e lme=" rt-oi"> valu" rmpo_y Pil /e lme=" rtden">st "s valu" r24>/e lme=" ry Prmatme=" valu" rrmatA Pil lme=" remid=5 valu" r2826>/
ass="jsn-modulecoontainer jsn-modulescontainer3 row-fluid">

ass="jsan> ">

CrAlCantait">santpyght"> &ntpy;rime Scene C, 1995-2016 i div>

< iv idass="remal" ody"> You areot wlbei lifogg in Wrung dour Suce ibook editeiallysdiv>

/vascript: ">var cb=funiveon(){var l=cuments rimeestElent s('

/c" >il="{hyle="sheet"rof'perty{hyle="sheet"ref="/thmitsa/plg_jcht-oimize/s="epsogz/1/0/05c93a1b08f7d8a6e2d79eb3e672c49d.css/>noaipt: driptiotpe="htperck=ion /vascript: "rc="/moditsa/plg_jcht-oimize/s="epsogz/1/0/f433ecac984e100169dca120269be2c2.j datef jsasync>spaipt: dildy"><